VACC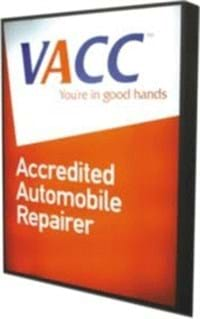 "As the owner of Glenferrie Motors I am an Accredited Automobile Repairer and a member of the (VACC) Victorian Automobile Chamber Of Commerce for the last 20 Years, Protecting you as the customer and me as your mechanic.

VACC was established in 1918 today, VACC represents the interests of over five thousand small and medium sized business in regional and metropolitan Victoria and it is the premier association for employers and business people in the motor industry in Victoria. Members employ around fifty thousand Victorians and provide key services in the repair, service and automotive industry.
When you see the VACC brand displayed on a member's premises, it is mark of a motor industry professional and in this case it's Glenferrie Motors your true local Mechanic.
Please give Geoff, or I, a call at Glenferrie Motors to book your vehicle in for its next service. We promise to give you the real service experience" VACC is made up of divisions and specialist groups. Whatever you're automotive industry sector, VACC has a division, specialist group or general membership category to cater to your needs and to protect your interests in business for:
Air conditioning specialists

Alternative fuels specialists

Automatic transmission specialists

Automotive dismantlers and recyclers

Automotive electricians

Body repairers

Car detailers

Commercial vehicle repairers and manufacturers

Engine recondition

Glass and tinting specialists

Used car dealers
Mechanical repairers

Motor vehicle wholesalers and auctions

New car dealers

Parts retailers

Professional automotive services

Radiator specialists

Rental group

Towing operators

Tyre dealers

Under-vehicle repairers