Our Services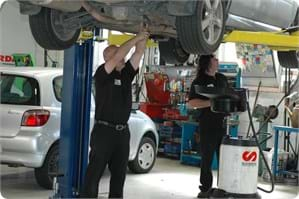 Glenferrie Motors carries out vehicle warranty servicing & repairs according to the schedule & log book servicing in Malvern, Malvern East, Armadale, Toorak, Glen iris, Caulfield South and Caulfield North.
Customers can take up the option of a courtesy vehicle while their car is been serviced and looked after by one of our team members. For 20 years we have been known as 'The Best in the Business' when it comes to servicing & repairs to your vehicle in the areas of Malvern, Malvern East, Armadale, Toorak, Glen iris, Caulfield South and Caulfield North.
At Glenferrie Motors, we also offer the following:
1 year Guaranteed on full Manufacturers Warranty Log Book Servicing & Repairs

2 year warranty on all brake repairs

3 year warranty on all battery repairs
Genuine parts and car service at competitive rates

Computer diagnosing

TuningTransmission 4-wheel drive servicing

Windscreen repairs and replacements

Car Detailing

Air conditioning servicing

Batteries & repairs with 3 year warranty
Fuel Injection Servicing

Testing and Diagnostic Repairs

Shock absorbers

Brakes, Clutch, Steering, Exhaust, Suspension Repairs etc.

Wheel Alignment and Wheel Balancing

Tyre Replacement & Rotation &Servicing

Roadworthy (RWC) Testing

Pre-purchase Inspections

VIC Roads licensed Vehicle Tester
Nick, Geoff, Nectar & Chris are our qualified technicians at Glenferrie Motors with years of extensive experience in the automotive industry, and their knowledge extends to all makes and models.
Geoff is also our customer relations manager Geoff's track record extends 39 years, in the automotive industry including 12 years with Glenferrie Motors.
If your vehicle has a problem let Geoff book it in and a team member will take care of all the rest.
We service the following makes and models:

We use and Trust:
Breakdown Towing Service:
RACV Members
Call: 13 11 11
Non RACV Members:
Gardenstate Towing Service
Call: 03 9429 1234
Panel And Crash Repairs:
Contour Panel Works
536 Dandenong Rd Caulfield North
Call: 03 9509 7848
www.panelbeaterscaulfield.websyte.com.au
Acclaim Accident Repairs
189 Waverley Rd, Malvern East
Call: 03 9571 2540
www.acclaimaccident.com.au